Product Description

Product Description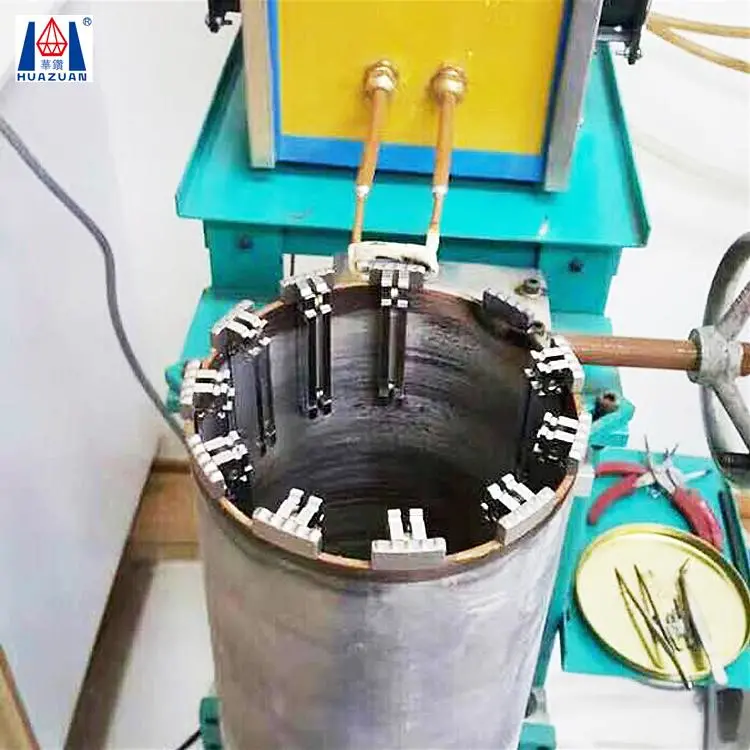 Magnet Holder:
This tool is used for brazing the segments onto the barrels.
Because the segments are usually 4mm thick and a barrel might be 2mm thick, this tool gives you the offset required when brazing your segments onto the barrel.
Application: For segment retipping
Feature:
The retipping magnet are made of strong N35EH neodymium magnet with strong magnitizm but also high resistance for heat.In the meantime,the retipping magnet are perfect for position the drilling segment in percise side clearance.Also the inner side clearance can be adjust when you put the magnet in it's a,b,c,d position
4 side clearance available 
Strong magnet for resisting high temperature
72.5mm overal length
With N35EH neodymium magnet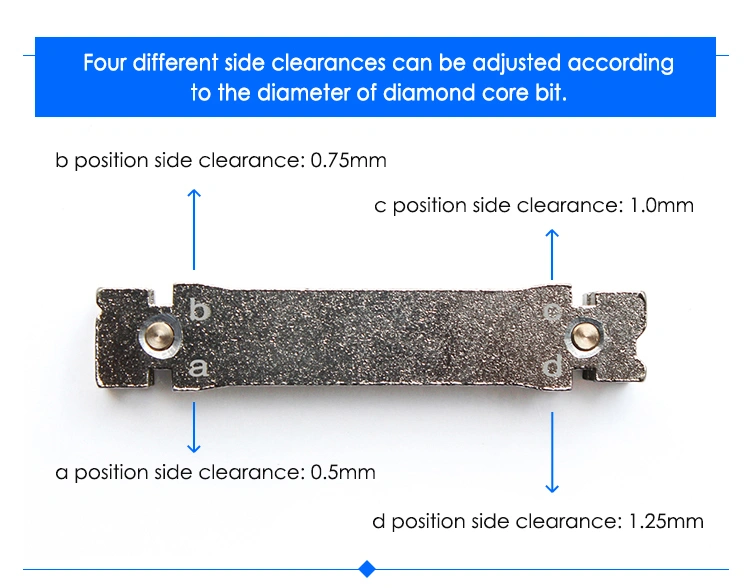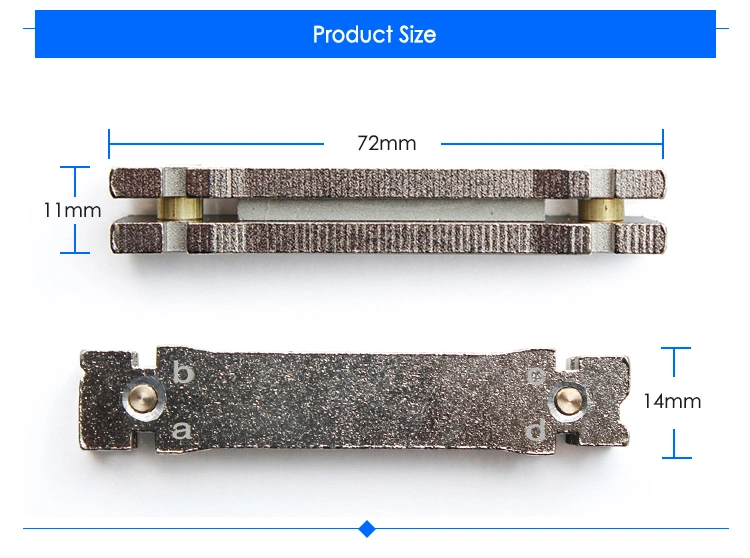 Normally when brazing the segment,the rule is:
Inner side clearance=(segment width-steel core width)x0.4
Outer side clearance=(segment width-steel core width)x0.4
Following is the reference for the segment size and steel core width for different diameter
| | | | | |
| --- | --- | --- | --- | --- |
| Diameter(mm) | Segment No. | Segmen Size(mm) | Segment Thickness | Steel Core Thickness |
| D25 | 3 | 15*3.5*9mm | 3.5mm | 2.0mm |
| D32 | 4 | 15*3.5*9mm | 3.5mm | 2.0mm |
| D38 | 5 | 20*3.5*9mm | 3.5mm | 2.0mm |
| D44 | 5 | 20*3.5*9mm | 3.5mm | 2.0mm |
| D52 | 5 | 24*3.5*10mm | 3.5mm | 2.0mm |
| D58 | 5 | 24*3.5*10mm | 3.5mm | 2.0mm |
| D63 | 6 | 24*3.5*10mm | 3.5mm | 2.0mm |
| D76 | 7 | 24*3.5*10mm | 3.5mm | 2.0mm |
| D89 | 8 | 24*3.5*10mm | 3.5mm | 2.0mm |
| D102 | 9 | 24*4.0*10mm | 4.0mm | 2.0mm |
| D108 | 10 | 24*4.0*10mm | 4.0mm | 2.5mm |
| D114 | 10 | 24*4.0*10mm | 4.0mm | 2.5mm |
| D127 | 11 | 24*4.0*10mm | 4.0mm | 2.5mm |
| D140 | 11 | 24*4.0*10mm | 4.0mm | 2.5mm |
| D152 | 12 | 24*4.0*10mm | 4.0mm | 2.5mm |
| D167 | 12 | 24*4.0*10mm | 4.0mm | 2.5mm |
| D180 | 14 | 24*4.5*10mm | 4.5mm | 3.0mm |
| D200 | 14 | 24*4.5*10mm | 4.5mm | 3.0mm |
| D230 | 15 | 24*4.5*10mm | 4.5mm | 3.0mm |
| D250 | 16 | 24*4.5*10mm | 5.0mm | 3.5mm |
FAQ:
1.Isn´it difficult to braze? What do I need to start retipping myself?
If you have no experience on how to braze you will learn quick - we will provide you with all the information you may need and what equipment to choose. Practice on a bit or two and you will soon get the grip.

2.What do I need to start?
When you order your retipping equipment from us, to decide what knife and matrix to choose, inform us what segment length you use for your retipping. 24 mm length is the most common in Europe. (1" for USA.)
For the brazing we recommend acetylen/ oxygen gas and a torch head with a concentrated flame. (More information comes with your first magnet shipment.) This you buy at you local supplier.To start brazing with magnets a good quantity may be 12 pcs of magnet. Then you normally can braze core bits up to Ø 150 mm (6") in one set. Silver for the brazing and flux specially suited for these kind of jobs you can order from us.

3.How many segments shall I put on?
Along with the equipment comes a chart showing recommended number of segments for each diameter. You are free to change according to your wishes. If you are drilling in very hard materials - or if you want to drill faster - or if you have a weak machine - you put on less segments.
4.What segment width shall I choose?
First depending on the steel thickness - you need a clearance on both sides of at least 0.5 mm (.02") on the smallest bits. On the outside of the bit you may have a little more clearance than on the inside. The more power on the machine or the more abrasive material the bigger clearance is to prefer.
5.What is the life on the magnets?
The magnets can be used several thousand times.
6.Can I also buy only the steel barrels and that way manufacture my own new bits?
Yes, of course you can manufacture new bits on your own by purchasing only the barrels.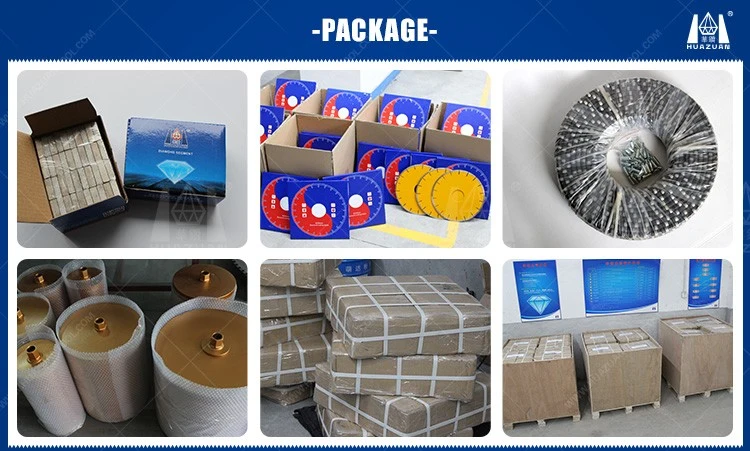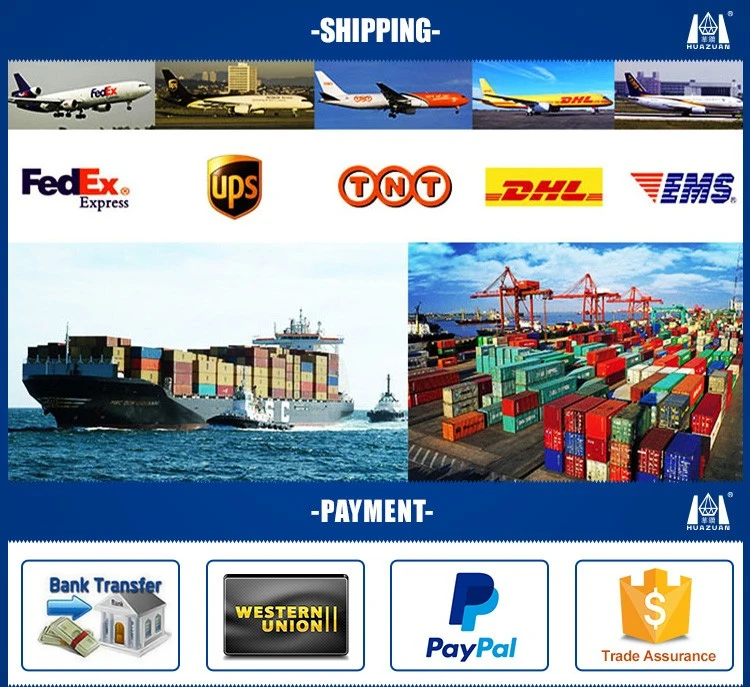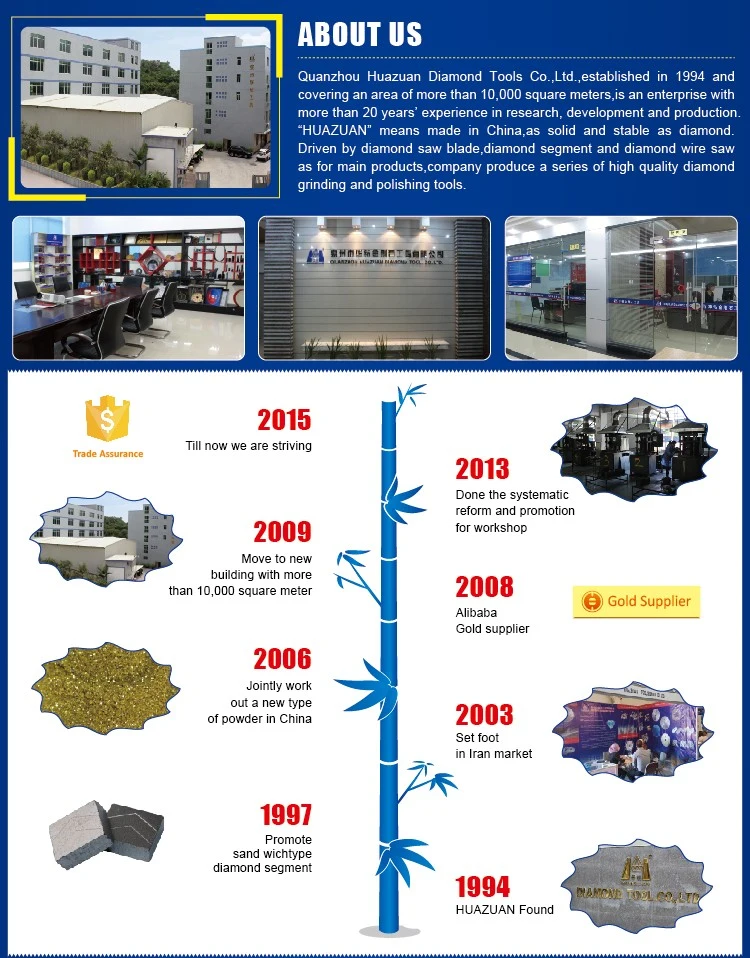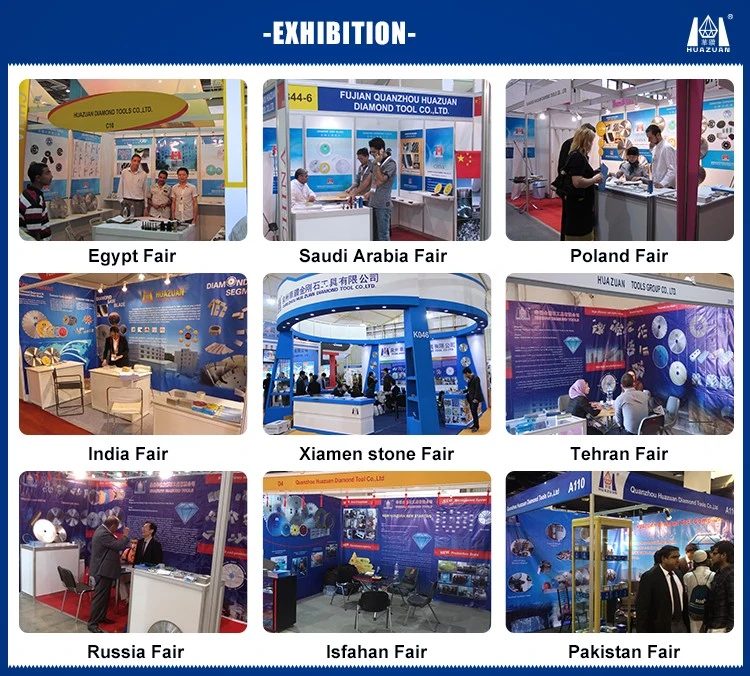 How Do Diamond Blades Work?
Understanding how a Diamond Blade works will help you choose a blade with the right characteristics and cutting quality for your needs. Here are the four basic blade components:
The metal core, a precision-engineered steel disk with a segmented rim that holds the diamonds.

The synthetic diamond crystals, the sharp cutting teeth that slice through the concrete.

The matrix, a metal bond that holds the diamond particles in place until they wear away.

The weld, which attaches the cutting segments to the core (most segments are laser welded or soldered).




The exposed diamonds on the surface of each segment do the cutting, using abrasive action to slice through material as the blade rotates at high speeds. As the diamonds at the surface become dull through use, the matrix begins to shed away to release the worn diamond crystals and expose new, sharp diamonds embedded within the matrix.
The most important fact to know is that the hardness of the matrix controls how quickly a blade wears.
Here's the basic rule:
A diamond blade used to cut soft, abrasive materials (such as uncured, green concrete) should have a hard metal bond so the exposed diamonds are fully utilized before they shed away. Conversely, a blade for cutting hard, nonabrasive concrete should have a soft bond to allow for easier erosion of the matrix, which will ensure exposure of new, sharp diamonds when you need them.
Contact us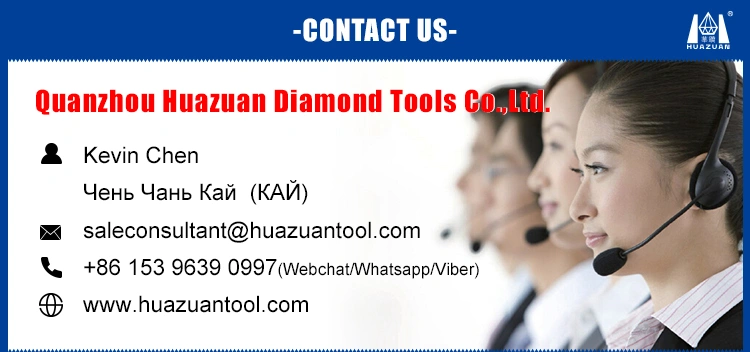 Contact us if you need more details on Magnet Holder. We are ready to answer your questions on packaging, logistics, certification or any other aspects about Metal Brazed Magnet、Segment Holder for Core Drill Bit. If these products fail to match your need, please contact us and we would like to provide relevant information.
Product Categories : Brazing magnet